Cheesecake
200 g of sugar
150 g of frozen red fruits
6 sheets of gelatin
250 g of cookie
150 g of butter
1 can of condensed milk
3 dl of cream
300 g of mascarpone cheese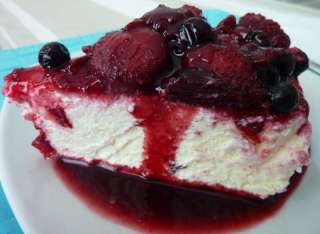 This is my favourite dessert. I like eat cheesecake always, but essencial in summer because is fresh for the hot days.
Pour the sugar into a pot, add the red fruits, stir, bring to the boil, stirring until the consistency is sweet, remove from the heat. Put the gelatine to soak in cold water. Break the cookies.
Melt the butter, add the broken cookies and mix well.
Put the prepared on a tray, pour the preparation of cookies and butter and press and smooth well with the help of a spoon. Take it to the fridge.
Pour the condensed milk into a bowl. Melt the gelatin leaves without boiling and add them to condensed milk always beating.
Beat the cream, add the mascarpone cheese, beat well … and then add the prepared condensed milk … keep mixing.
Add  this prepared to the cookie that is in the fridge, and put in the fridge again.
At the time of serving, uncover and add the red fruit sauce you prepared.
Sara Gabriela